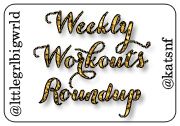 Today I'm on a jet plane headed to see my family in Memphis! Been a busy start of the week so this is a tiny bit late!
Anyway, last week was a pretty awesome week for workouts. Even though my running mileage was lower, I only had 1 rest day.
2 meh faces gave me a not so happy face for the week, even though it didn't totally suck
Monday
I headed to the gym later than normal. I needed to get in a decent 5 miler for the week before
focusing on speed.

1/2 mi w/u at (8:38), 2 mi at 8:06, 1 mi at 7:49, 1 mi at 7:42. This was one of those runs that don't feel fantastic, especially compared to the rest of my runs lately, and the treadmill shut off right in the middle of it. After this run, I was praying to the running gods that I wasn't hitting a funk week since it was 10k race week!
I love a good spin class that incorporates multiple mountains and jump songs. Tuesday's class delivered. I had jello legs after peddling for 20.8 miles. I came home and stuck to my ode to core that I made last week and put on Ab Ripper X from the p90x series. I was terrified as soon as I hit play and wondered how I was going to do. I made it through it, but definitely took a couple of breaks.
creepy no?
On Wednesday, my legs weren't feeling like running. Instead, I did the first 45 minutes of the YogaX dvd from p90x. I don't know why I haven't been pulling this out more often! It's a great yoga session - almost 1:45 long and pretty challenging.
Speed work was on the agenda Thursday morning. I chose to go to the gym and complete this on the treadmill since I can control the pace easily and just run. Covered right at 4.75 miles.
1 mi w/u at 8:52
400m 1:52 (7:30 pace)
400m recovery
800m 3:40 (7:24 pace)
400m recovery
800m 3:38 (7:19 pace)
400m recovery
800m 3:33 (7:09 pace)
400m recovery
400m 1:39 (6:40 pace)
0.75 mi c/down at 9:05 pace
I asked for opinions on the recovery since I feel like 400m is too long. I never stop running, but pause to walk for a few so I can safely drink and towel off. I received great feed back and next speed session I will drop it to 200m or keep it at a faster pace. Lots of stretching and foam rolling/stick today!
Friday
at work was long and kind of a sucky day even though nothing in particular happened. I wasn't in the best of moods when I got home. In fact I had on my grumpy pants. I immediately changed and ran out the door barely saying hi to Mike and Claire. I was sucking major wind this run. Maybe because I just couldn't relax, but by the end I was falling into my groove and felt like I wouldn't snap someone's head off if they said anything to me. Splits:
8:11, 8:03, 7:54, 7:57
Sunday
was race day! I got home from work and to bed around 12:45 and was able to sleep all the way until 7am.
This was a hard hard run, but I earned myself a new 10k PR
! Does this count as a 5k PR, too?
Here I am grinning after I passed her at this point.... she looks kinda mad! Yikes!
5k turnaround point
I'm linking up with
Kat
and
Meghan
!
How long/what speed do you go during the recovery periods in speed work?
How was your last week of workouts?